High-end luxury three Sunflower AB color rhinestone chain Korean version of the dress collar hand-sewn diamond sandals with diamonds
0
stars, based on
0
reviews
Color Classification

White 10.5 cm long, take more shots without cutting
AB color 10.5 cm long, take more shots without cutting
Contact Us
Item specifics
Color Classification:
White 10.5 cm long, more shots do not cut AB color 10.5 cm long, more shots do not cut
** For More Latest Products, Check out at
https://www.wholesalefactoryoutletworldwidestore.com/
. Join our FB VIP Membership @ https://www.facebook.com/wholesalefactoryoutlet1 FOR FREE NOW! **


Three flower rhinestone diamond chain
Material: Middle East 888 rhinestone white and AB color
Metal parts: copper, silver plating
Width: about 2.25-2.3 cm
Purpose: All kinds of shoes and clothes decoration, hand-sewn DIY
Example of quantity length shooting: if you take a piece of 10.5 cm long, a 10.5 cm piece will be sent; if you take two pieces of 10.5 cm, a whole piece of 21 cm long will be sent, and so on. That is to say, the whole piece is connected together, and buyers can use ordinary scissors to cut short according to the actual situation. The longest length of a single strip is 4.4 meters.
The picture below is AB color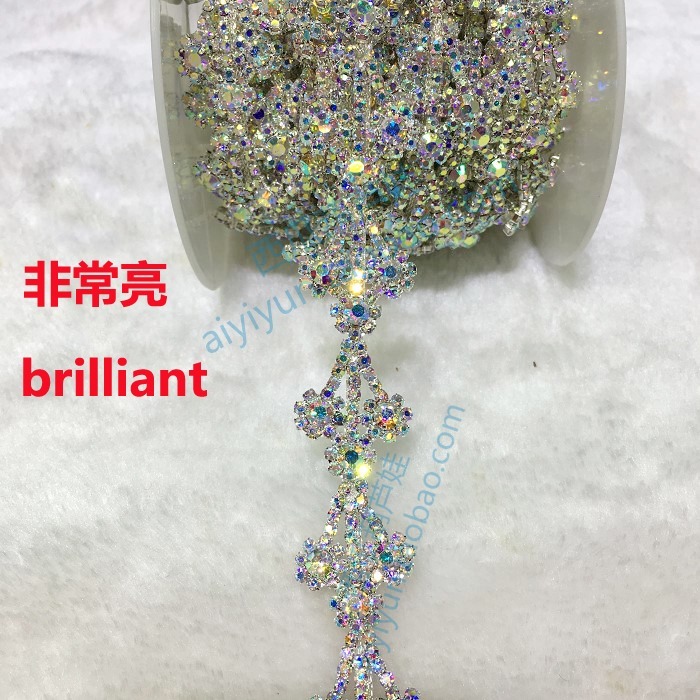 The picture below is white